Blencathra bid group 'not giving up'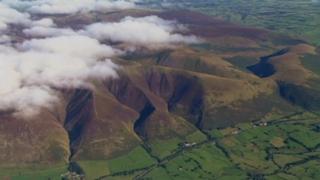 A community group hoping to buy mountain in the Lake District has said it is not giving up, despite a higher bid being accepted.
Blencathra was was put up for sale in May by the Earl of Lonsdale, to help settle an inheritance tax bill.
On Friday it was announced that it had been sold to an "unnamed party".
Friends of Blencathra, set up to bring it into public ownership, is now hoping an application for it to be listed as a community asset will be successful.
H&H Land and Property, the agents handling the sale, said: "We confirm that our client Lonsdale Settled Estate has instructed us to accept an offer which exceeds the guide price for Blencathra Mountain.
"The duty of the Estate is to accept best value and we are instructed to proceed with a sale based on this offer from an as yet unnamed party."
'Creative use'
Friends of Blencathra said that as a registered charity it was not permitted to make an initial bid higher than the market value, but it would be able to match any higher offer.
Founder and chair, Debbie Cosgrove, said: "Money is still pouring in, with donations continuing to be made after the bid decision.
"We are talking to our agent and our lawyer and are also hopeful for community asset listing."
Eden District Council will be meeting to consider the application on Monday.