Sellafield's oldest nuclear waste being 'repackaged'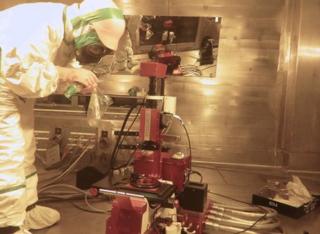 Decades-old nuclear waste is being moved from the world's largest open air nuclear storage pond at Sellafield and "repackaged".
The Pile Fuel Storage Pond (PFSP), built between 1948 and 1952 to store fuel from the Windscale pile reactors, is being decommissioned.
Old canisters of radioactive sludge are being emptied and the contents transferred to modern containers.
PFSP head Dorothy Gradden said the store was "well past retirement age".
'Astonishing cost'
"The pond poses one of the most challenging decommissioning projects on the Sellafield site," she said.
"Almost 1,000 different waste forms have been identified and this canned fuel represents the most significant hazard in the pond and is, therefore, the highest priority to remove."
The process is expected to take about a year to complete. The pond stopped operating in the 1970s.
The estimated cost of the clean-up of Sellafield's old reactor, redundant structures and stored waste had risen to an "astonishing" £70bn, the Public Accounts Committee said in February.
It said progress had been "poor" but the consortium in charge of the site, Nuclear Management Partners, said it faced "unprecedented" challenges.