Cumbria CCTV deal 'due to be finalised'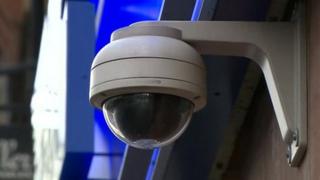 A deal to install a network of CCTV cameras across Cumbria is expected to be finalised within weeks, the county's police and crime commissioner has said.
A total of 53 cameras are due to be placed in Carlisle, Barrow, Workington, Kendal, Whitehaven and Penrith.
Commissioner Richard Rhodes said an initial seven-year contract to supply, install and maintain the cameras would cost about £2.5m.
He said more cameras would be added if the scheme was successful.
'Important tool'
The PCC and the six county's district councils would contribute to the start-up cost, with the day-to-day running paid for by Cumbria Police.
Mr Rhodes added: "Negotiations regarding the procurement of a supplier to install the county-wide CCTV scheme are continuing, and it is currently anticipated that a contract will be awarded during October 2014.
"It will operate for a seven year period, subject to satisfactory performance."
Cumbria's chief constable Jerry Graham said: "I look forward to the new system becoming operational in the near future, as it will provide consistent and improved CCTV coverage across Cumbria.
"CCTV is an important tool to help solve crime and keep our local communities safe."