West Cumberland Hospital fears see thousands gather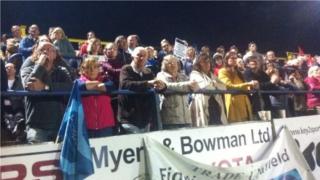 Thousands of people gathered in a Cumbrian town on Monday evening for a public meeting about the local hospital having its services cut.
Some facilities at the West Cumberland Hospital in Whitehaven have been moved elsewhere and others are under review.
Campaigners are worried patients could have to travel further for treatment.
But the health trust, which runs the hospital, said moving services, such as those for trauma and cardiac cases, had led to fewer deaths.
Some have been moved to Carlisle, while some patients have been treated in Hexham in Northumberland.
'Lack of engagement'
Representatives of the North Cumbria University Hospitals (NCUH) NHS Trust, addressed the meeting and answered questions at Whitehaven's rugby league ground.
Copeland's Labour MP and shadow health minister Jamie Reed also spoke at the event.
Siobhan Gearing from the group Campaigning for a Safer West Cumberland Hospital, which organised the meeting, said: "The majority of us are outraged. We can't believe what the trust are doing.
"They're going to drive the hospital so far down that they're going to say there's no need to have it here anymore."
The trust's medical director Dr Jeremy Rushmer said: "The evidence is absolutely clear that as a result of the changes that we've done, less people currently die in north Cumbria hospitals than ever before."
He said consultant-led maternity services at Whitehaven were currently "under review" and their future was "not entirely certain".
Mr Reed said such services were a "non-negotiable red line" and accused the trust of a "lack of engagement" over the changes being made.
The trust has been in special measures since last year and has faced criticism over staffing levels and standards of care.