Cumbria's fells 'damaged' by charity challenges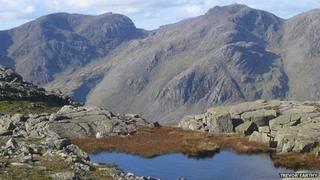 Litter, human waste and overcrowding from charity challenges are damaging Cumbria's fells, according to a national outdoor organisation.
The British Mountaineering Council (BMC) said more needs to be done to limit the impact of people taking part in such events.
It hosted a conference at Rheged, in Penrith, to discuss to the issue.
The boss of one outdoors adventure group attending the event said participants are "carefully" managed.
Rob Dyer, BMC's access and conservation officer, said "We don't want to discourage people from taking part in challenge events in the uplands, but as many participants are not regular mountain-goers we are increasingly hearing of problems.
"Our advice to first-timers would be to ensure that you are properly prepared and where possible choose to go with a group of mountain professionals who understand the complexities of the mountain environment."
'Disgusting state'
The organisation is set to publish its good practice guide later this year.
Penny Kirkby, duty leader with the Wasdale Mountain Rescue team which covers Scafell Pike, attended the conference.
She told BBC Cumbria that toilet facilities "cannot cope" with the thousands of people who use them every day.
She said: "There aren't enough of them and people abuse them.
"They're clean on a Friday evening, but by 6am on Saturday they're in a disgusting state and so people don't use them."