Locums cost two Cumbria hospitals £1m a month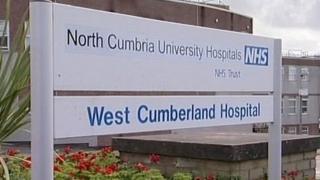 More than £1m a month is being spent on locum staff at two hospitals in Cumbria, a BBC investigation has found.
West Cumberland Hospital in Whitehaven and Carlisle's Cumberland Infirmary were placed in special measures in July 2013, by inspectors concerned about a "heavy reliance" on temporary staff.
This remains an issue and agency staff now cost North Cumbria University Hospitals Trust £265,000 a week.
It said a recruitment drive was under way and beginning to bear fruit.
Dr Jeremy Rushmer, medical director at the trust, described the reliance on agency staff as "not sustainable".
He said: "It's not just financial terms, but there are other important ways that you don't get value for that money.
"Staff can leave at very short notice and team work is the name of the game in creating modern healthcare.
"So these non-permanent staff that come in make it tremendously difficult to develop the service in the way that we need to."
'Chicken and egg'
Tom Moberley, editor of British Medical Journal Careers, said being in special measures could exacerbate recruitment problems.
"When trusts are in those sorts of pressures it becomes a less attractive place to work", he said.
"People don't necessarily want to work in an environment under that pressure and scrutiny."
Dr Rushmer said: "It's a chicken and egg situation, with the staffing crisis part of delivering standards.
"We need an extra 50 staff and are recruiting an additional seven or eight a year on top of that.
"We are increasing staff numbers, it is slow, but the gap we have is large.
"What we need to do is very, very steadily build up a vision and plan, and year by year move out of this situation.
"I think we stand a very good chance of getting out of special measures when the Care Quality Commission visits over the next few months."