Cumbria CCTV deal to cover county's 'key locations'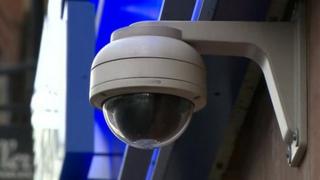 A CCTV camera network across Cumbria will be operated by IT and surveillance firm Tellemachus, the county's police and crime commissioner (PCC) has said.
The 53 cameras in Carlisle, Workington, Barrow, Kendal, Whitehaven and Penrith will be working by March, PCC Richard Rhodes said.
The £2.5m contract to install and maintain them will run for seven years.
Cumbria chief constable Jerry Graham said CCTV was an "important tool" in fighting crime.
"The number and location of cameras throughout Cumbria was decided following analysis of incidents dealt with by police, through consultation with neighbourhood policing teams," he said.
He said more cameras could be added in the future if funding was available.
Cumbria Police will pay for the scheme's running costs, though the PCC and the county's six district councils will contribute to start-up costs.
There will be 15 cameras in Carlisle, three in Penrith, seven in Kendal, twelve in Barrow, seven in Whitehaven, and nine in Workington/Maryport.