James Clague and Yamin Hussain jailed for 'revenge' gun plot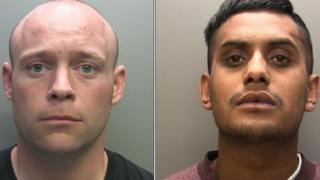 Two men have been jailed for a "revenge" plot to shoot people which they hatched in prison.
James Clague was serving time at HMP Wealstun where he met Yamin Hussain who promised to provide him with a gun, Carlisle Crown Court heard.
But the plot was foiled when they were overheard by a fellow inmate.
Clague, 28, of Workington, and Hussain, 23, of Leeds, pleaded guilty to conspiracy to possess a firearm and both received 11 years.
The pair met at the Yorkshire jail where Hussain was serving a sentence for robbery with an imitation firearm and Clague for affray and being in possession of a bladed object.
Their plan for Hussain to arrange the sale of a 9mm pistol and ammunition to Clague for £650 was overheard and reported to the authorities.
After his release, in May, Clague, of Main Road, Seaton, travelled to Leeds to make the purchase. But police had been tipped off and he was arrested by armed officers.
Both men were subsequently charged with conspiracy to possess a firearm.
Det Insp Ian Harwood of Cumbria Police, who led the investigation, said: "James Clague posed a serious threat to the lives of a number of individuals in West Cumbria.
"This was a calculated plan to seek revenge against others he believed had wronged him.
"I wish to pay tribute to the bravery of witnesses in this case who were prepared to take the stand, give evidence and stand up to these thugs."