Dementia abuse carer's jail term halved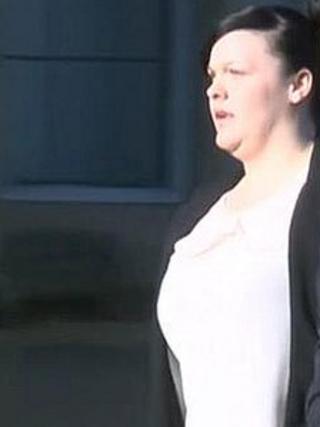 A carer who took part in the abuse of elderly residents at a home in Cumbria has had her jail term reduced.
Claire Strong was sentenced to a year after pleading guilty to three counts of neglect or ill treatment of a person who lacks mental capacity.
The 21-year-old had taken videos and mobile phone pictures of colleagues abusing residents at Beacon Edge Nursing Home in Penrith.
The Appeal Court has now heard she was "easily led", and her term was halved.
William Bowman and Chevonne Benson were also jailed by the judge at Carlisle Crown Court in October, after admitting a number of counts of ill treatment.
The court was told they "degraded and mocked" their victims, subjecting them to "torment including hair pulling and verbal abuse which left them visibly distressed".
Strong, formerly of Penrith, but now living in Durham, shared footage of the abuse, and made callous comments about it.
Speaking during a hearing at the Appeal Court, Mr Justice Edis said her offences were "mean, cruel and exploitative".
However, a reduction in sentence was justified by her youth, previous good character, and the fact she was not involved in physical abuse.