Carlisle's chaplain rapper Andy Dykes on Songs of Praise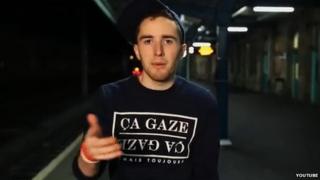 A church mission worker from Carlisle is to appear on Songs of Praise after his online Christmas carol rap was spotted by producers.
Andy Dykes remixed the traditional carol O Come, O Come Emmanuel, last year to give it a more hip hop feel. It got more than 4,000 hits on YouTube.
Researchers on the BBC1 show saw it and asked him if he had another planned.
Now Mr Dykes and his friends have recorded a version of God Rest Ye Merry Gentlemen, which will be shown later.
The 23-year-old said: "I got a call from one of the researchers on the programme to say they had seen last year's arrangement and were keen to know if we were doing the same again.
"We had a think about what we could do and decided on God Rest Ye Merry Gentlemen.
"You need to take care when choosing which carol will work. You can't take a carol which is too bright and cheery as that clashes with the rap element."
The new work again features a mix of traditional and modern music styles in the arrangement.
Choristers from Carlisle Cathedral feature on the track and the rap sections are performed by Mr Dykes, who is a young adult mission worker for The Way Church in Carlisle.
He added: "Songs of Praise said they were keen to film with us and the choristers at the Cathedral because they like the idea of the mix of traditional and modern music in the arrangement."