River Lune screw turbine to power Killington homes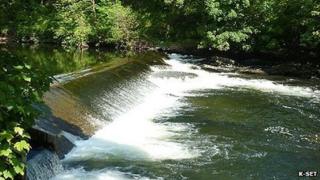 A river could be utilised to provide power for a small farming village in Cumbria.
Killington and District Sustainable Energy Trust (K-SET) wants to install a screw turbine on the Broad Raine Weir on the River Lune at Killington.
A study has shown that the 50kW turbine could generate enough power to provide the energy needs of around 40 homes.
South Lakeland District Council (SDLC) has now backed the scheme and will sell the piece of land to the trust.
The site is owned by the Environment Agency, which has declared the land surplus, but the terms of sale mean that only government bodies can purchase it.
To enable the micro-hydro scheme to proceed SDLC has agreed to buy the land for £30,000 and then sell it on, for the same price, to K-SET.
Council leader Peter Thornton said: "Hydro power schemes such as this one can offer green, long-term solutions to some of our energy supply needs."
Maureen Lamb, secretary of K-SET, said: "We are a small farming village of only about 160 inhabitants, with no bus service and no shops.
"With the River Lune on our doorstep and its weir at Broad Raine, we realised that the acquisition of the site from SLDC would give us a great opportunity to save carbon-based energy.
"We want to show that even a small village can make a difference if the will is there. "