Underley Hall abuse probe: 'No evidence of police misconduct'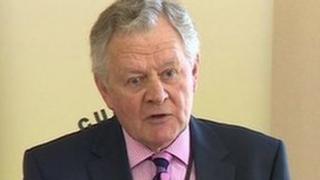 A review into how Cumbria Police handled claims of historical child abuse at a private school has found no evidence of misconduct or negligence.
Former pupils at Underley Hall School in Kirkby Lonsdale had raised concerns about an inquiry between 1996-97.
Richard Rhodes, the county's Police and Crime Commissioner, ordered the internal review in October.
It has concluded it was "proportionate and to the prevailing standards for an investigation at that time".
Underley Hall School was a private boarding school, which closed in 2012 after being judged "inadequate" by Ofsted.
Police began looking into allegations of abuse at the school again in August as part of a wider investigation into residential schools across Cumbria called Operation Tweed.
The allegations at Underley date from the 1970s up to the 1990s.
Mr Rhodes said: "The review has not found any evidence that amounts to misconduct or negligence on behalf of the investigating officers.
"However, there have been improvements to police investigative practice and developments in available techniques since the 1990s and as a result the internal review information will be used to assist the current police investigation Operation Tweed."
The review was conducted by a detective chief inspector who played no part in the historic or current police investigation, Mr Rhodes added.