Cumbria County Council HQ given cabinet approval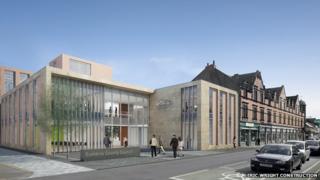 Plans for new headquarters for Cumbria County Council have been approved by cabinet members.
The £10.4m offices in Carlisle will house about 700 staff currently based in 22 locations in and around the city.
The "downsizing deal" was part of "significant" cuts to its workforce and would save about £1m a year in running costs, the council said.
Labour council leader Stewart Young said it needed "modern, flexible accommodation with lower overheads".
"It's like making that move from a big old family home into a smaller, modern house that you know will be cheaper to run and look after," he said.
The council's older buildings are expensive to maintain and run and would cost almost as much to refurbish as the new building on the site of the old William Street car park.
Staff are expected to move in by spring 2016.