North Cumbria hospital parking 'causing stress'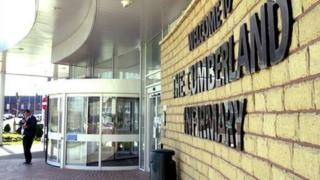 Parking at two north Cumbria hospitals is causing "stress and anxiety" according to a patients' support group.
Healthwatch surveyed patients and staff at Carlisle's Cumberland Infirmary and Whitehaven's West Cumberland Hospital.
It found a severe shortage of spaces, with patients and visitors struggling to park and more staff permits handed out than there are available spaces.
North Cumbria University Hospitals NHS Trust said it had set up a task group to tackle the "pressing problem".
Healthwatch Cumbria described parking arrangements at both sites as "badly thought out and poorly managed".
This was causing "unacceptable levels of stress, anxiety and cost" and was "having a direct impact on the well-being of those visiting the hospital for treatment, tests and clinics".
'Frustration and anger'
David Blacklock, chief executive of Healthwatch Cumbria, said: "North Cumbria University Hospitals NHS Trust has many challenges to overcome as we all know, and understandably car parking may not be its top priority right now.
"We have spoken to hundreds of people who have told us stories about their frustration and anger when trying to park at the hospital.
"Knowing how many patients may be visiting each site at any given time is essential to ensure that appropriate parking provision is available, enabling easy access to the services people need."
Steven Bannister, from the trust, said: "Plans to increase parking capacity at West Cumberland Hospital in Whitehaven are already in place with the ongoing redevelopment of the site.
"A new working group which includes staff from the trust, Healthwatch Cumbria and Interserve (the contractor which currently runs parking at Carlisle's Cumberland Infirmary), has been set up.
"Proposals to ease congestion include possible locations for additional parking spaces, park and ride schemes, the creation of a clear car parking policy and 'pay on exit' barriers.
"The options and costs will be presented to the trust board along with a new car parking policy in March."