Lake District fence plan sparks objections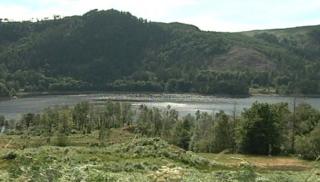 A water company has defended plans to erect an eight-mile (13 km) fence across open fells in the Lake District.
United Utilities said the move would prevent water in Thirlmere becoming contaminated as a result of erosion caused by heavy grazing.
But conservation groups, including Friends of the Lake District, have described the proposals as "draconian".
The government's Planning Inspectorate is due to consider a formal application later this year.
The company said the fence, which would remain for 15 years, would keep sheep away from a three-square-mile area which had been "over-grazed" for many years.
Biodiversity officer John Gorst said erosion was resulting in increased levels of peat entering Thirlmere, which is used to supply drinking water.
He promised access to walkers would not be hampered and gates would be included at regular intervals.
'Tranquil experience'
He added: "The fence is needed to restore the area to catchment.
"If we just restore small parcels we would end up with a series of smaller fenced areas, which we feel would be more visually intrusive.
"We want to encourage natural vegetation back to the area, which has been over-grazed for many years, and to regenerate and hopefully restore habitats which are natural to the valley."
But Jan Darrell of Friends of the Lake District said: "This is a draconian measure, with the hope that we will get some habitat improvement and less soil erosion.
"We do not think there is enough evidence to justify what they are planning.
"This area is very much for those looking for a wild, tranquil experience and the presence of a fence like this would have quite a significant impact on the quality of that experience."
A spokesman for the Open Spaces Society, which is also opposing the fence plan, added: "We strongly object to this intrusion into this wild, unspoilt landscape.
"Not only is fencing an eyesore, but it prevents people from roaming freely over the whole area as is their right."