Whitehaven Civic Hall: Closed venue opens to tenants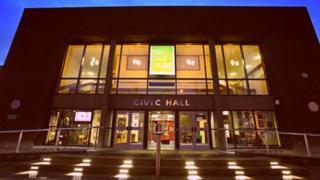 An entertainment and community venue has re-opened, more than a year after having to close because the council could not afford to keep it running.
Whitehaven Civic Hall shut in November 2013. Copeland Borough Council said £2.6m budget cuts meant it could no longer afford its £250,000 subsidy.
Social enterprise company Inspira will move into the premises in February.
The borough council said it was negotiating tenancies with other organisations.
Labour council leader, Elaine Woodburn, said it had agreed to use the civic hall "in the short term" as space for commercial and community services to raise income.
"Central to the re-opening was achieving rental for the space which covered opening and operational costs and made the building an income generator, rather than creating unsustainable costs," she said.
Campaigners had tried to save the venue, which had been used by about 70 groups, the year before it closed.