Philip Day woodland damage challenge rejected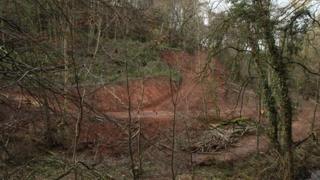 A clothing tycoon fined £450,000 for damaging ancient Cumbrian woodland has been refused permission to challenge his case at the UK's highest court.
Philip Day was also ordered to pay £457,000 in legal costs in 2013 after admitting carrying out unauthorised work at Gelt Woods near Brampton.
The owner of the Edinburgh Woollen Mill challenged his case at the Appeal Court in December but lost.
His bid to take it to the Supreme Court has now also been rejected.
Gelt Woods is a Site of Special Scientific Interest (SSSI), due to its age and the form of gorge woodland, a type particular to north Cumbria and parts of Scotland.
Trees were felled and land excavated to build an access track for a pheasant shoot, in November 2010.
The judge at Carlisle Crown Court said Mr Day had been "grossly negligent" in relation to the works.
The area has since been fully restored.