West Cumberland Hospital: Fire 'most likely' accidental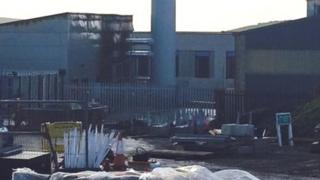 The cause of a fire at a £90m hospital being built in Cumbria was "most likely" accidental, investigators said.
The biomass fuel plant which would have powered the redeveloped West Cumberland Hospital in Whitehaven was destroyed.
The new building will not open in April as planned.
Cumbria fire and rescue service station manager Adrian Holme said current evidence indicated "the most likely cause is an accidental fire within the energy centre".
"It is a complex, technically-demanding investigation involving large amounts of physical and data evidence," he said.
It took five fire engines and 30 firefighters four hours to put out the blaze on 23 January.
No-one was hurt, no patients were affected and services continued to run as usual, the North Cumbria University Hospitals NHS Trust said at the time.
The new building has been connected to a temporary power supply.