Rose Castle in Cumbria to go on sale after Christian bid rejected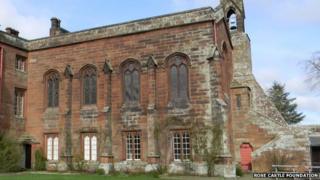 A Christian group has said it is disappointed after church chiefs rejected its bid to buy the former home of the Bishops of Carlisle.
The Rose Castle Foundation wanted to turn the fortified house, home to 63 Bishops from 1230 to 2009, into a peace and education centre.
But the group said the Church Commissioners had rejected its offer to buy the Grade I-listed castle.
Church Commissioners said they would now put the castle on the open market.
'Poles apart on price'
Canon John Libby from the foundation said the group's valuation of the castle in Dalston was "poles apart" from that of the Church Commissioners.
He told BBC Cumbria: "Our disappointment was that we couldn't get around a table and talk about that difference."
Another spokesman for the foundation said the "serious and substantial" bid had been made on the group's behalf by an anonymous benefactor.
The spokesman said the group would continue to investigate the possibility of buying the castle.
The Church Commissioners were unavailable for comment but told the Cumberland News the castle would soon be offered for sale on the open market.