Open Spaces Society's conservation fears over Lake District sale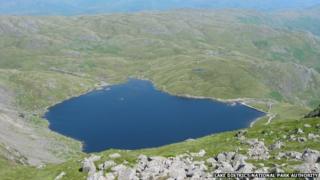 Future owners of parts of the Lake District up for sale may not prioritise conservation issues, The Open Spaces Society (OSS) fears.
OSS is opposing the Lake District National Park Authority (LDNPA)'s plan to sell 59 hectares of land including Stickle Tarn.
Members of the House of Lords have also objected to the plan.
"If the national park authority sells this land it could be at risk," OSS general secretary Kate Ashbrook said.
'We have great sympathy with the park authorities who are suffering slashed budgets but it is no solution to flog off land which should be held for the nation.
'No planning changes'
"We hope that the Lake District authority will change its mind even at this late hour."
The LDNPA has previously said the land earmarked for sale - which also includes part of the shoreline of Coniston Water - will still be protected even if it is in private ownership.
Members of the House of Lords have also said they are shocked by the proposed sale.
Labour peer Lord Dubs was one of several peers to call the sale shocking, adding: "Surely we should say the Lake District is not for sale to the highest bidder."
But, rural affairs minister Lord de Mauley said funds raised through the sale would be reinvested in the park area and there would be no change to the planning restrictions on the land.