Barrow's Cavendish Street night closure scheme made permanent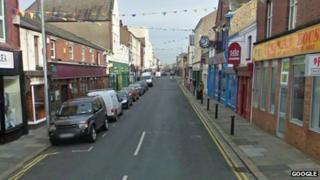 A pilot scheme to protect late-night revellers from one of Barrow town centre's roads is being made permanent.
The move, which came into effect in April 2014, saw Cavendish Street shut to all vehicles on Fridays, Saturdays and Sundays from 21:00 till 05:00.
The scheme was put in place after an increase in bars and clubs in the area led to safety concerns for pedestrians.
Cumbria Police said since the pilot began there had been a 10% reduction in alcohol related incidents.
Councillor Kevin Hamilton, chair of Cumbria County Council's Barrow Local Committee, said: "We worked closely with the police to introduce the experimental order and it's been a big success, helping make this busy area much safer for pedestrians.
"We've not received any objections during the trial period, so it makes good sense to make the traffic order permanent."