Cumbrian coast 'meteor' sightings spark lifeboat search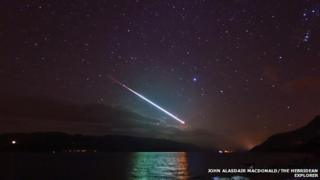 A 'meteor' mistaken for a distress flare sparked a lifeboat search operation off the English coast.
Maryport Coastguard Rescue Team said it received numerous reports of a moving red object over the sea between Workington, Cumbria, and the Isle of Whithorn on Sunday night.
They alerted RNLI Workington, which launched a lifeboat, but found nothing after a "thorough search" of the area.
After further inquiries it was decided the sighting was probably a meteor.
A spokesman for the coastguard said it had received reports from other parts of the country reporting lights in the sky.
The meteor believed to have sparked the phone calls was photographed over Loch Ness in Scotland.