Bed shortages at north Cumbria hospitals ease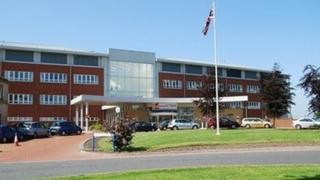 Some services have resumed at hospitals in Cumbria which declared a major incident because of a shortage of beds.
Non-emergency operations at Carlisle's Cumberland Infirmary and the West Cumberland Hospital in Whitehaven were halted by health bosses on Thursday.
They blamed "consistently high" admissions and problems arranging social care for elderly patients.
People with planned outpatients appointments have been told to attend as normal from Friday.
Fifteen patients had to be transferred to hospitals in Newcastle, Hexham and Scotland because of the crisis.
'Wider challenges'
The Department of Health said work was under way to tackle the area's "complex" issues it faced locally.
Dr Jeremy Rushmer, medical director at North Cumbria University Hospitals NHS Trust said: "Yesterday morning we had over 100 patients who had been in hospital longer than 20 days awaiting discharge to a more appropriate care setting and this places a huge strain on the effective running of local hospital services.
"There is no doubt that the pressures being felt in our hospitals this week reflect the scale and nature of wider challenges across the entire health system in North Cumbria and we recognise just how far beyond the call of duty our teams have gone.
"Our focus now is on working together with partners to return to routine business as quickly and safely as possible."
Dr Hugh Reeve, interim chief clinical officer, said: "Health and care organisations across North Cumbria have had a difficult day, but while the system remains under pressure the situation has improved."
When a hospital declares a major incident it indicates the pressure on services has forced the need for special measures to be introduced.
The declaration allows hospital bosses to call in extra staff to help.