Eastman Workington plant to close with loss of 152 jobs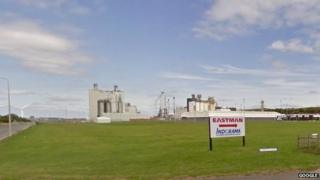 A chemical plant in Cumbria is set to close with the loss of 152 jobs.
The Eastman site, in Workington, will cease production of acetate tow - a raw material used in cigarette filters - in April.
The company said the closure was the result of a change in global markets and did not reflect on the performance of its employees.
It follows a consultation with staff, during which the GMB union called for a rethink of the proposals.
Linda Hensley, from Eastman, said: "This was a difficult decision because it impacts team members who have made valuable contributions to our company.
"We appreciate the co-operation we've received throughout this difficult process and we will be doing all we can to support employees to ensure they are treated with the respect they deserve."