Cumbria mountain rescue leaflet to tackle rise in call-outs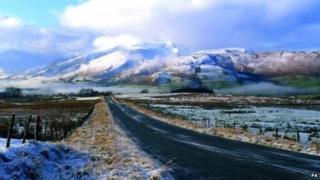 Mountain rescue teams in Cumbria are launching a new awareness campaign to tackle an increase in call-outs.
Last year, teams across the county attended 474 rescues - a rise of 10% on the 2013 figures.
To tackle the problem 40,000 copies of a new leaflet, "How to stay safe and enjoy the fells" are now available in all tourist offices in the county.
The Lake District Search and Mountain Rescue Association (LDSMRA) said it wanted to reduce avoidable accidents.
Richard Warren, chairman of LDSMRA, said: "The good weather last year brought people out and the more people are out, unfortunately, the more accidents occur.
"The key thing is that we want to prevent avoidable accidents - those who go out ill prepared or without regard to the weather."
He said the leaflet is a simple, step-by-step guide to remind people what they should do before they set out on the fells - and what to do if they have an accident.