Evicted Appleby farmer calls for loans protection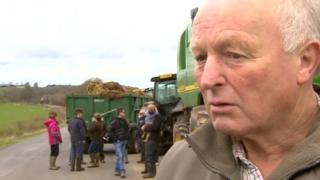 An evicted farmer is calling for greater protection for businesses taking out high-interest loans.
Chris Atkinson was evicted from Birks Farm at Appleby, Cumbria, owing £3.5m after taking out a loan of £1.45m.
It was taken out through UK Acorn Finance and Somerset financier Des Phillips. Commercial loans over £25,000 are unregulated.
UK Acorn Finance said a possession order was granted at Carlisle County Court in January 2014.
The bridging loan had been taken out in October 2010.
'Hellish' experience
Mr Atkinson, 66, said: "I was given a bridging loan with a promise of getting us on to long-term cheaper finance. The bridging finance came to an end and there didn't seem to be any progress being made.
"A period of months elapsed and then I eventually got letters to say this loan had to be settled immediately or they would take possession proceedings.
"I was determined I wasn't paying any more money once the bridging loan had finished."
Mr Atkinson and his family were evicted in February this year, but he said he was "determined" to get the farm back and called for greater regulation of commercial loans.
His son, Kevin, and daughter-in-law, Emma, and their two children also had to leave. They described the experience as "hellish".
They staged a protest at the farm on Wednesday.
UK Acorn Finance said: "The allegations made by Mr Atkinson in respect of the lending and against both UK Acorn Finance Limited and Mr Phillips personally have been litigated unsuccessfully by him.
"An order for possession of the property at Birks Farm was made in UK Acorn Finance's favour at Carlisle County Court in January 2014."
Mr Phillips was featured in a BBC Radio 4 documentary last year called Country Rogue. He declined to comment to BBC Cumbria.