Poster for Lancaster Labour candidate put up in Carlisle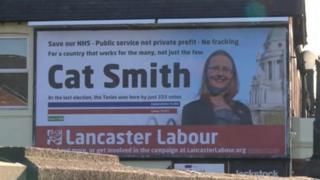 Labour has admitted a mistake was made after a poster featuring the wrong election candidate was put up in Carlisle.
The large billboard on Warwick Road urged electors to vote for Cat Smith - Labour's candidate for Lancaster and Fleetwood, 70 miles away.
Labour's candidate for Carlisle is Lee Sherriff.
A Labour spokesman said the advertising company working for the Lancaster party branch had made the error.
The spokesman said: "This has now been removed. Carlisle Labour Party campaign were not involved in any way."
---
The candidates for the Carlisle constituency are:
Loraine Birchall (Liberal Democrat)
Helen Davison (Green)
Fiona Mills (UK Independence Party)
Alfred Okam (Independent)
Lee Sherriff (Labour)
John Stevenson (Conservative)
---
The candidates for the Lancaster and Fleetwood constituency are:
Matthew Atkins (UK Independence Party)
Chris Coates (Green)
Harold Elletson (Independent)
Robin Long (Liberal Democrat)
Eric Ollerenshaw (Conservative)
Catherine Smith (Labour)
---