Cumbria Fire Service re-appeals for retained firefighters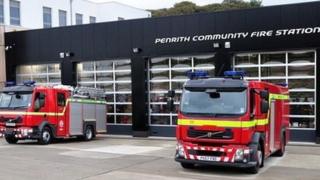 Cumbria Fire and Rescue Service is re-appealing for people across the county to work as retained firefighters.
The fire service needs to recruit 30 on-call volunteers to work at 38 stations from Bootle to Penrith and has struggled to fill the vacancies.
Chief fire officer Jim Onions said they need to live within five minutes of the fire station so they can turn in for incidents very quickly.
He says it is demands like this which "reduces the pool" of people available.
Mr Onions said: "It is a perennial problem, certainly not just in Cumbria but across the country.
"The retained fire service is very much the backbone of the British fire service and so we are all struggling with this problem of how we recruit these firefighters to our fire stations.
He said the job was about "community service".
"On-call firefighters are very well regarded in their local communities, they're recognised as almost the heroes of their communities," he added.