Richard Rose Academy in Carlisle out of special measures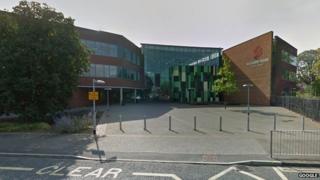 A school in Cumbria has been taken out of special measures after being placed in the category twice in four years.
Richard Rose Academy in Carlisle was rated as "inadequate" in 2013 by Ofsted inspectors over its teaching and also in 2009 due to poor leadership.
The latest report found it "requires improvement" but teaching had improved and there was strong leadership.
Executive principal Derek Davies, said it was a "massive testament" to the hard work of the staff and students.
'Keen to achieve'
Inspectors found that although teaching had improved, it still "required improvement" as not enough students gained five or more GCSEs and many "lagged behind" in English.
The report also found attendance rates were "well below" the national average.
Mr Davies said: "The quality of teaching has improved considerably in the academy and I thank staff for their determination to ensure all students make the progress that they are capable of.
"When I walk around the academy I see the majority of students engaged in their learning and are keen to achieve."
He said there was "still more work to do and we will continue to recruit staff who are talented, committed to our students and making a difference to their life chances".
The academy was taken over by the United Learning group of schools in 2013 after the school was placed in special measures for the second time.