Mini submarines remove nuclear waste at Sellafield site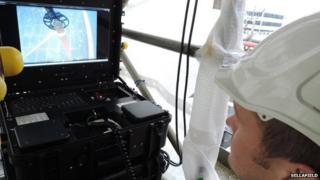 Miniature submarines are being used to remove nuclear waste from storage ponds at Sellafield in Cumbria.
There are about 800 cartridges of radioactive cobalt from the 1950s and 1960s that were used for radiotherapy and to sterilize medical supplies.
Radioactive isotope sources need to be safely disposed of in the same manner as other nuclear materials.
The cartridges are stored underwater in open-top skips and are being retrieved by the 3ft (1m) submarines.
Paul Nichol, head of the Pile Fuel Storage Pond at Sellafield, said: "The cartridges are generally used for things like radiotherapy machines and they apply a really significant dose because the whole point of that is to kill cancer cells.
"The problem we face is we're dealing with a historical legacy going back to the 1950s so currently these cartridges are stored in an old facility that dates back to that era.
"Our job is to get them into much more modern containment."