Furness baby deaths: Mother left 'heartbroken' by treatment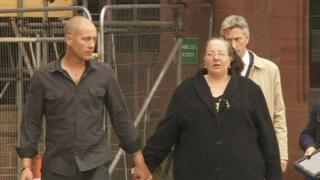 A mother whose baby died at a Cumbrian hospital says her own treatment was one of the "most heartbreaking" things she has had to deal with.
Lesley Bennett was giving evidence at a Nursing and Midwifery Council misconduct hearing.
Midwife Marie Ratcliffe delivered Mrs Bennetts's baby Elleanor, who lived for 27 hours before dying at Furness General Hospital in 2004.
Mrs Bennett said Elleanor's short life was "painfully etched" in her mind.
Ms Ratcliffe is not attending the hearing. She accepts more than 60 allegations, including contributing to the death and/or causing a baby to lose a significant chance of survival in relation to the deaths of Elleanor Bennett in 2004 and Alex Davey-Brady in 2008.
Mrs Bennett, 42, of Dalton-in-Furness, said she "instinctively knew" there was something wrong when her "purply-blue" newborn baby was placed by her side.
She told the hearing in London: "If Marie had acted to the standard expected of a midwife, I have no doubt I would have given birth to a healthy baby girl. Marie should not be able to practise on a ward."
She said the ordeal created such "trauma" she had nine months of "pure terror" and was later sterilised during the Caesarean birth of her son.
In Mrs Bennett's case, Ms Ratcliffe is accused of failing to ensure the foetal heart rate was adequately monitored and failing to request assistance from a doctor or other medical professional when she had difficulty with the heart rate.
Mrs Bennett said she felt Ms Ratcliffe was "dismissive" during her "difficult" labour and she did not tell her or her husband Gary that she was finding it difficult to find a foetal heart rate.
Ms Ratcliffe was suspended for 18 months by the Nursing and Midwifery Council at a conduct hearing in February 2014. She said she had no intention of returning to the profession.
The hearing is expected to last until 15 May.