Alpacas auctioned in Carlisle spring sale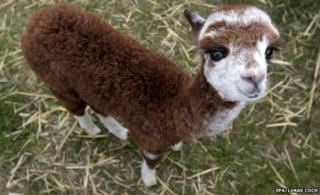 More than 120 alpacas are being sold at auction in Carlisle.
The 123 animals have come from around the country, including almost 60 from one herd in Northumberland, to be sold at the Borderway Mart on Monday.
Auctioneer Scott Donaldson said alpacas, which are usually bred for their wool, are herd animals and should be bought in minimum sets of two.
He told BBC Cumbria a quality breeding female alpaca with good fibre could fetch up to £2,000.
Mr Donaldson said: "There are not too many auction sales of alpacas, it's not an everyday occurrence.
"They are quite placid, you've got to be careful but they're not too bad to handle."