Grizedale Forest motorcycle crash pair critically ill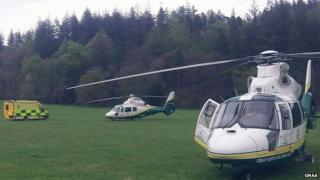 Two off-road motorcyclists are critically ill after they collided in a remote part of a forest in Cumbria.
A pair of Great North Air Ambulances were called to the scene in Grizedale Forest on Sunday afternoon, because of the seriousness of their injuries.
Both men, in their 20s, had suffered serious head injuries and were anaesthetised by GNAAS' doctors.
One was given blood at the scene before both were airlifted to two different hospitals.
The GNAA said it was unusual for two air ambulances to attend the same incident.
In this case, the decision was made due to the remoteness of the location and the serious nature of the injuries suffered, a spokeswoman said.