River Eden restoration to entice spawning salmon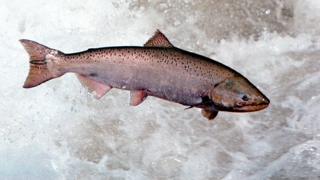 Work is under way to return a Cumbrian river to its natural course to help spawn salmon and other wildlife.
Part of the River Eden near Haweswater was straightened 200 years ago to clear land for grazing.
But a lack of natural bends and faster flowing water meant Atlantic salmon had fewer areas to spawn, said nature experts.
Work has now begun to redirect Swindale Beck, which flows into the Eden, to create a more natural habitat.
The number of salmon returning to spawn in the River Eden has fallen by 50% since the 1970s, despite the UK being a stronghold for Atlantic salmon.
'Serious problems'
The RSPB, which has researched the decline of wildlife habitats since the river was straightened, is working with the Environment Agency, Natural England and landowners United Utilities to dig out a new, slower-moving channel to help promote fish production.
A spokesman said: "The modification to the river has caused serious problems for Atlantic salmon, as the straightened and fast-flowing channel does not provide the different habitats normally found in natural meandering rivers, which they need to successfully spawn."
Trees are also being planted along the riverbank to provide natural shade for spawning salmon and other fish species, including brown trout.
The project is being jointly funded by the Environment Agency, Cumbria Waste Management Environment Trust and United Utilities.