£250,000 refit to Carlisle's St Barnabas Church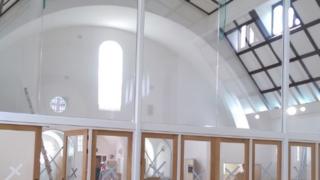 An 80-year-old church in Cumbria has reopened after undergoing a £250,000 revamp.
St Barnabas Church in Carlisle was shut for 16 weeks during which time a new glass, timber and steel partition screen has been installed.
New kitchen and toilet facilities have also been built and the building's electrics, plumbing and lighting have been replaced.
The Rev Eleanor Hancock said she was "thrilled" with the project.
The revamp was paid for from donations and the sale of a church hall.
Ms Hancock said: "It is really important that people entering the church are still able to look down the building's length to our lovely deep sanctuary.
"The new glass screen still allows that to happen and yet it can create different spaces for different users."