Kye Kerr death: "Insufficient curiosity" about family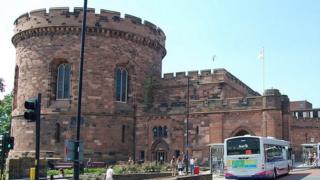 Authorities had "insufficient professional curiosity" about the family of a baby found dead at his Carlisle home, a review has found.
Kye Kerr was six weeks old when he died in 2011 - medical experts concluded he had suffered cardiac arrest.
His father Craig Beattie went on trial for manslaughter but was cleared.
A serious case review found earlier assessments of the family had been inadequate and the information was not shared properly with other agencies.
It said: "In this case, there was insufficient professional curiosity despite historical context.
"There were a number of assessments completed by professionals of variable quality which were static, did not inform planning, did not adequately consider all the adults in the home and were not appropriately shared with the multi-agency team."
The Cumbria Local Safeguarding Children Board said it had since reviewed its assessment procedures, and had reminded front-line staff and supervisors that they must always take into account family history and content.
It added that the most recent inspection of Cumbria County Council's Children's Services showed improvement from previous ratings of "inadequate".