River Eamont weir removal proposed to prevent flooding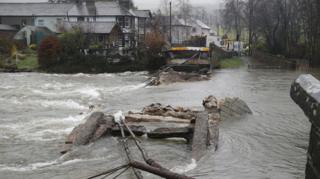 Two weirs should be removed to prevent flooding and improve the habitat for fish, an environmental group has said.
The Eden Rivers Trust wants take out a small weir across the River Eamont near Carleton Hall in Cumbria and a larger one at Low Mill.
Bridges across the river were damaged or destroyed in floods during Storm Desmond in December.
Trust river restoration manager Daniel Brazier warned weirs could collapse if not removed.
"It'll continue to present a barrier to fish migration and it will continue to contribute to flooding," he said.
"Because it's a redundant structure that isn't being maintained there's also that risk that it could collapse in an uncontrolled manner."
Installed as barriers across rivers to hold back a section of water, many weirs were now redundant, the trust said.
They change river erosion, deposition and how gravel moves down river and make it difficult for fish to travel to breeding grounds and seek out food, it said.
Eamont Bridge Flood Relief chairman Chris Battersby said the river "should have been looked at" after the village was flooded in 2005.
"Anything that can be done in the village to the river and its surrounds that will help relieve the amount of flooding is only a benefit," he said.
A consultation period ends on 12 July.