Surviving Bassenthwaite osprey chick 'in good health'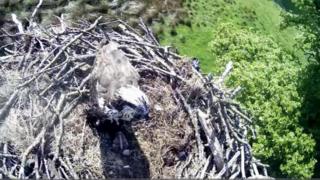 An osprey chick whose siblings were killed by magpies has been given a clean bill of health.
The female was one of three hatchlings at Bassenthwaite, in Cumbria, in April.
Lake District Osprey Project had predicted a "bleak" future for the bird as it was feared the magpies would return.
However, as the sole recipient of the food brought in by her parents, she now weighs 1.8kg (4lbs) and is said to be doing well.
Expected to migrate to Africa in August to spend the winter months, a tracker device has been fitted to the bird which will enable experts to follow its progress.
Following a public competition, she has been named Bega after the founder of the church at Bassenthwaite Lake.
Ospreys returned to the area in 2001 after an absence of more than 150 years and nearly 30 chicks have been raised at the nest in the last 15 years.