West Cumberland Hospital halted £90m revamp to go ahead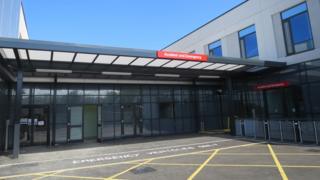 Parts of the second phase of a £90m hospital redevelopment will go ahead after being halted when building costs increased by about £10m.
The newly built section of West Cumberland Hospital in Whitehaven, Cumbria, opened in October.
But North Cumbria University Hospitals NHS Trust postponed the rest of the revamp after the budget rose by 30%.
Chief executive Stephen Eames said the trust was "extremely pleased" to be carrying out more work.
A spokeswoman for the NHS Trust said money left over from the original £90m funding would be used to complete clinical services, while further funding would need to be found in the future to create new office space.
The next part of the revamp, which will begin in spring 2017, will see the vacated part of the hospital refurbished to accommodate the mortuary, maternity ward and breast screening services.
A new main entrance would also be built by summer 2018, the trust said.
Protests have previously been held over concerns about the loss of services.
When the new building opened, trauma and cardiac services were moved to the Cumberland Infirmary in Carlisle.
The trust said a "range of options" had been considered for clinical services that remain in the old building, including stroke rehabilitation and elderly care.
The organisation is in special measures after being criticised over mortality rates, staffing levels and standards of care.