Ex-UKIP chief admits hitting pensioner in Carlisle EU row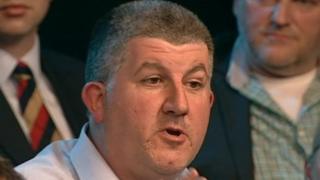 A former UKIP regional chairman has admitted assaulting a 78-year-old man during a row over leaflets in the run-up to the European Union referendum.
John Stanyer struck the pensioner in the face four days before the vote in June, magistrates in Carlisle heard.
It happened after a Remain campaigner threw leaflets produced by Leave campaigners on the ground on English Street in the city centre.
The 52-year-old, from Wigton, was ordered to pay a £500 fine.
He was also told to pay £200 in compensation and costs of £85 costs.
Speaking after the hearing, Stanyer, said: "I thought I was defending myself and our property, what we stood for.
"I do regret hitting the man, I shouldn't have done it."