Maude White death: Jacqueline Fairclough jailed for killing grandmother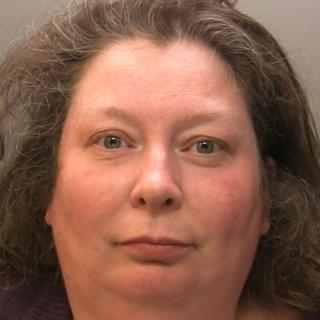 A woman has been jailed for killing her 91-year-old grandmother, who was found dead at a Cumbria caravan park.
Maude White was discovered in "filthy" conditions at Wyndham Hall Caravan Park at Cockermouth last May.
Jacqueline Fairclough, 43, who was Mrs White's registered carer, earlier denied manslaughter, but changed her plea at Carlisle Crown Court.
Fairclough was jailed for three years, after the court heard Mrs White had been found covered in bed sores.
In February she had denied killing Mrs White, but she changed her plea to manslaughter resulting from gross negligence.
Prosecutors said Fairclough, formerly of Eccleston in Lancashire, had failed in her duty of care and did not seek medical attention for her grandmother, who it was said died in "terrible pain."
Paramedics had been called to the caravan the pair shared for several months a year on 27 May, but Mrs White was already dead, the court heard.
In an impact statement, Mrs White's son George said he "thought about what happened every day" and was angry his mother was subject to so much suffering and pain.
Deep ulcers
He added: "Jacqueline Fairclough is my niece. She is family and that makes it all the more difficult to comprehend.
"I am so angry that my mother was subjected to such pain and suffering and I feel guilty that I wasn't aware of it and could not help her."
The Crown offered no evidence against Jacqueline Fairclough's father, Peter, who had also been charged with manslaughter.
The court heard that a post-mortem examination showed Mrs White had at least 10 deep ulcers on various parts of her body.
The prosecution accepted that Fairclough had not acted for monetary gain and that she had learning difficulties.
In police interviews Fairclough denied knowing her grandmother was in serious need of medical attention, and claimed any sores must have appeared on the day of her death.
However, medical experts said the sores would have appeared over a considerable amount of time.
Det Con Ruth Pickering, of Cumbria Police, said: "During the police investigation Fairclough denied any wrongdoing and claimed to have cared for her grandmother in the best way possible.
"It was clear that Mrs White was in need of urgent medical attention which she did not receive."