Poppi Worthington inquest: Doctor 'suspicious' of injuries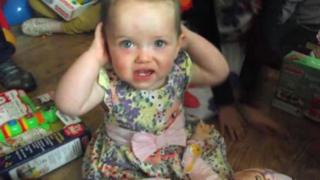 A doctor who tried to save the life of a 13-month-old girl after she stopped breathing was suspicious of her condition, an inquest has heard.
Dr Osama Braima said he tried to save Poppi Worthington when she was brought to Furness General Hospital in 2012.
The inquest heard Dr Braima spent 57 minutes trying to revive her.
She later died, and a family court judge said she had probably been sexually assaulted by her father Paul Worthington, which he denies.
Dr Braima, a consultant paediatrician at Furness General Hospital, said he was coming to the end of a night shift when Poppi was brought in from her home in Barrow at about 06:10 GMT on 12 December.
In a statement, which was read at the second inquest into Poppi's death, he said the toddler did not have a heart rate, was not breathing and was blue.
"Basically she was dead before she arrived," he added.
Dr Braima said he also noticed bleeding from Poppi's bottom.
He added: "I thought there was something wrong inside of the child, I was suspicious."
The inquest heard Dr Braima examined Poppi five hours after she was pronounced dead when he noticed she was still bleeding.
"I have never seen anything of this nature on any child in my career," he said.
Paul Worthington's sister Tracy told the inquest she threw out a "very full nappy" which smelled "rancid", after first asking police officers.
She had gone to the house in Barrow after both parents went to hospital.
Ms Worthington said she carefully bundled up the nappy and put it in a plastic bag before putting it into a rubbish bin. She said she was given permission to do so by two police officers at the scene.
The inquest also heard from Cumbria police officers who responded to the 999 call with some going to the house and others to the hospital.
Insp Helen Ellis said the first mention of blood on Poppi came from Dr Braima.
She said she asked him what he meant and he said it could be "something or nothing".
'Seal off bedroom'
The officer said he explained that the resuscitation attempt lasted a long time and various pieces of equipment were used which could have drawn blood.
She said from that point on it had to be treated as suspicious.
She added that officers at the house had sealed off Poppi's bedroom, but not the entire home at that point.
PC Kimberley Stokes, who was the first officer at the house, said she was initially told to seal off the upstairs, but not the downstairs area consisting of a hall, living room and kitchen.
Mr Worthington has never been charged with any offence and denies responsibility. He is due to give evidence on Wednesday.
The new inquest, in County Hall, Kendal, was ordered after a seven-minute hearing in 2014 determined Poppi's death was "unascertained".