Poppi Worthington inquest: Officer admits not being fully trained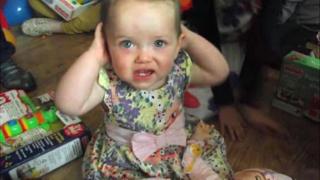 The police officer who led the investigation into the death of 13-month-old Poppi Worthington has told an inquest she was not properly trained.
The toddler died suddenly at a house in Barrow, Cumbria, early on 12 December 2012. No-one has ever been prosecuted.
A judge has said her father Paul Worthington probably sexually assaulted her before her death.
The then Det Insp Amanda Sadler said she had not had the full training to be a senior investigation officer (SIO).
The Cumbria force has been criticised for its handling of the investigation by the police watchdog.
Mrs Sadler told the second inquest into Poppi's death, being held in Kendal, that she was only called out because she lived near the Worthington family home.
She also told coroner David Roberts that she had not read in full the Cumbria force's protocol for dealing with child deaths - known as Chapter 13.
Mr Roberts asked her: "I take it you had no previous experience investigating infant death?"
"Only at a minor level," she replied.
He asked her if, knowing she lacked knowledge and experience of such cases, she read Chapter 13 when she had "come up for air".
She said she did not read it in any depth.
Mrs Sadler, who was subsequently demoted and later left the force, was also asked if she was aware a sample should have been taken from Poppi on the day of her death.
She said she was made aware after later attending a child death course.
Asked about failings in collecting samples from the scene, Mrs Sadler said she had trust in officers who conducted the searches and felt no need to "go back" and carry out further searches.
Barrister Paul Clark, representing Mr Worthington, asked Mrs Sadler when a penile sample from the father was requested.
She said it was discussed and decided upon at 16:15 on the day Poppy died, with a sample actually taken at 17:00.
Mr Clark said it "was already apparent" by that time of the kind of suspicion being levelled at Mr Worthington.
Mrs Sadler said it was one possibility, but so too was that it was a natural death.
Mr Clark said the sample issue should "have been raised hours earlier" and the evidence could be undermined if, as was "entirely foreseeable", Mr Worthington went to the toilet during that time.
Mrs Sadler also admitted that it took an hour to seal the Worthington house because there were "difficulties" in finding places for other family members to go.
Earlier Paul Worthington broke down in tears when asked if he had sexually abused Poppi, but refused to answer.
In total the 49-year-old refused 252 times to answer questions about Poppi's sudden death on the grounds he could incriminate himself.
Mr Worthington, who has always denied any wrongdoing, was escorted in and out of the hearing by police officers for his own protection.
The new inquest, at County Hall, Kendal, was ordered after a seven-minute hearing in 2014 determined Poppi's death was "unascertained".
In 2016, High Court family judge Mr Justice Peter Jackson ruled that Poppi was probably sexually assaulted by her father shortly before she died.