Rape accused boy claims girl, 15, 'asked for sex'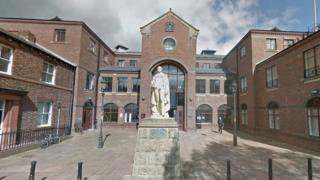 One of four schoolboys accused of raping a 15-year-old girl and abandoning her in a muddy field told a jury she had initiated sex.
The teenager, who cannot be named, claims she was attacked by the group in Workington, Cumbria, on 3 January 2017.
Carlisle Crown Court heard from one of the boys, who said as the group were walking with the girl she asked them: "Does anyone want sex?".
The four boys, who are all under 16, deny rape and sexual assault.
Jurors were read a transcript of an interview the boy gave to police after his arrest.
'Screaming and crying'
In it he said that as he and the three other boys walked with the girl, she asked two of them: "Does anyone want sex?" The boy said he replied: "I will if you want."
A police officer asked him: "In no way did she want to stop?" "No," the boy replied.
"You are quite certain about that?" asked the officer. "Yes," the boy responded.
Asked whether he had raped a female, the boy replied: "No."
The officer asked: "Have you been involved with anybody else in the rape of her?" "No," the boy said.
The court had previously heard the girl was found "screaming and crying" in the field not long after the alleged rape.
A friend said she was "in a mess" and "could not talk."
The trial continues.