Men jailed for Carlisle Christmas Eve sex attack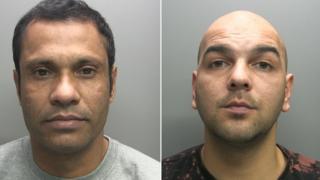 Two men have been jailed after a woman was repeatedly raped and sexually assaulted on Christmas Eve last year.
The victim thought Kabir Hussain, 40, and 31-year-old Marco Martins were trying to help her into a taxi when she left a pub in Carlisle.
She was led to a flat where she was raped twice by Hussain and sexually assaulted by Martins, Carlisle Crown Court heard.
Hussain was jailed for 11 years and Martins for three years, nine months.
The court heard that when she left the pub in a drunken state, the victim was "sandwiched" between the pair and even carried at one stage.
'Begging'
Once lured to the flat, she was raped twice by Hussain and once by a third man who was arrested by police but has since absconded.
During the first of Hussain's attacks, Martins sexually assaulted the woman.
Prosecutor Tim Evans said: "Throughout it all she was begging to be allowed home but none of the men responded."
The victim said in a statement: "I know I will obviously never be able to forget what's happened, but right now I just simply don't know how to move on."
Hussain, of Dod Street, London, admitted two rape charges and one sexual assault.
Martins, of Borland Avenue, Carlisle, pleaded guilty to one sexual assault charge.
Both men must sign the sex offenders register indefinitely.