Ferrari and BMW caught driving at 135mph on M6 in Cumbria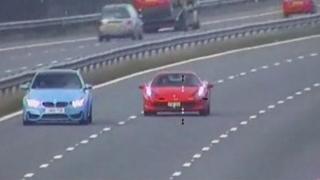 A Ferrari and BMW were caught doing speeds of more than 135mph on the M6.
The Ferrari was caught by a police speed van on the M6 at Todhills, Cumbria, a court heard.
It was being overtaken by the BMW, doing 145mph, in September last year.
Ferrari driver Edward Hall, 39, was disqualified for 12 weeks and ordered to pay £1,104, while the BMW owner Fasial Tariq, 27, had to pay £1,185 and was disqualified for 12 months.
Carlisle Magistrates' Court heard that Hall, from Derby Road, Kirkby-in-Ashfield, Nottinghamshire, works as a buyer for a car sales company.
He had just collected the Ferrari from Glasgow and was driving it to Northampton when he was caught.
Hall admitted being the driver and was handed a 12-week disqualification, a £927 fine, £92 victim surcharge and £85 costs.
His disqualification means he will not be able to work for three months as he is not salaried and works entirely on commission.
'Tragic consequences'
The registered keeper of the BMW was Northampton-based Onyx Executive Travel Ltd.
Company director Fasial Tariq did not identify the driver, and therefore the business was fined £1,000, with a £100 victim surcharge and £85 costs.
He had previously been disqualified from driving for two years for drink-driving, driving while disqualified and driving without a licence.
Tariq, of Croughton Close, Northampton, only got his licence back 10 days before the speeding offence.
He was disqualified from driving for 12 months.
Cumbria Police is running a week-long campaign to target speeding drivers.
Sgt Claire Sampson of Cumbria Police Mobile Support Group said: "We see the tragic consequences of people driving too fast and it is our officers who have to deliver the terrible news to families."
Correction: This story was amended on 23 April 2018 when we became aware the situation behind the two cars speeding was not as we first understood.