Derby surgeon speaks of flood devastation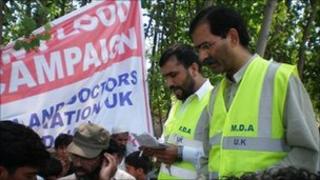 A consultant surgeon from Derby helping the relief effort in Pakistan has been describing the level of devastation.
Dr Syed Yusuf Iftikhar, chairman of Midlands Doctors Association UK (MDAUK), flew out a week ago.
As well as medical duties, he has been co-ordinating the supply of clothing, shelter, food and water.
The charity helped victims of the north Pakistan earthquake in 2005 and Dr Iftikhar said it was the second time he had seen a disaster of such magnitude.
He described "the pungent smell of dead bodies and dead animals".
"The carcasses are still around, nobody can clean up, you can smell it," he said.
"I smelt it once before at the time of the earthquake and that was quite distressing."
He said the scale of the flooding was enormous.
"The rivers are huge - not like Severn Trent Rivers, you're talking about five miles wide."
Dr Iftikhar has visited one of the worst hit areas, Charsadda, as well as Sindh, where he said he saw a camp of 50 to 100 tents every few miles or so.
He said about 70% of women he spoke to in a camp in Sukkar told him they wanted to return to their village.
Aid packages
The charity has already arranged for new clothes to be made for victims and nearly 10,000 garments have been flown from Karachi to Peshawar.
Nearly 2,000 food packs have now been distributed too - containing flour, rice, sugar, lentils and oil plus basic cooking utensils, which can sustain a family for between two and three weeks.
Dr Iftikhar said he was waiting for about 2,500 water purification kits to arrive on Wednesday - currently they are in Hanoi in Vietnam.
A Bradford medical team of two GPs and four nurses was due to fly to Karachi on Saturday, from where they would travel to Dadu.
"We need people who can deal with gastroenteritis, skin conditions and water-born infections," Dr Iftikhar said.
He added that in some areas where he had travelled Taleban forces were active and there was a risk of being taken hostage.
Dr Iftikhar is due to return to the UK on Sunday.
He will resume his duties next week and said he was very grateful to the Royal Derby Hospital for granting him compassionate leave.