Derbyshire boy's 'double broom' among best inventions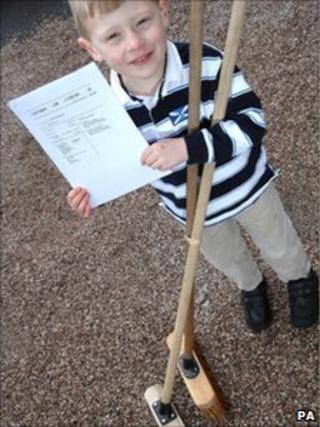 A double-headed broom invented by a three-year-old Derbyshire boy has been hailed as one of the most ingenious inventions in recent years.
Sam Houghton, now eight, used a rubber band to strap together two types of brush so debris and fine dust could be swept up simultaneously.
He said he was inspired by the animated adventures of Wallace and Gromit.
The product forms part of a British Library exhibition showcasing the UK's top 15 inventions of the past decade.
Sam, from Buxton, came up with the idea while watching his father swap between two brushes as he tried to clear up leaves and finer debris.
Strapping the two together, he created the "Improved Broom" which can be flipped around for different jobs.
At the age of five he was granted an official patent and is thought to be the youngest Briton yet to hold one.
He said: "It is for when you are having trouble sweeping up. It makes it easier and quicker."
The youngster - who has more inventions in the pipeline, including a machine which can pop balloons silently - added: "I feel quite good because I am helping people to be able to do things."
Steve van Dulken, Patent Expert and Curator of "Inventing the 21st Century", said he had been particularly impressed by Sam's neat solution to a problem.
"I think it is a tremendously inspiring invention," he said.
"I was willing to lie down in a ditch to defend it - I was adamant that it would be in there.
"The fact that someone less than four-years-old could come up with such a neat solution is very impressive."
Other inventions to be featured in the exhibition include the Road Refresher Dog Bowl - an idea rejected on Dragons' Den - and an innovative baby bottle which warms milk to the correct temperature every time.
The Mosquito Security System, designed to tackle anti-social behaviour by emitting a high-pitched noise audible only to youngsters, was also selected.