World War One scrapbooks fetch £9,600 at auction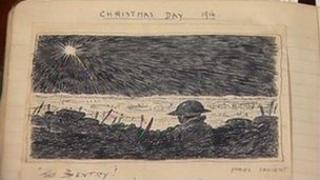 A diary and sketch book recording life in the trenches of World War One has made £9,600 at auction.
Lieutenant Kenneth Edwin Wootton served with the Tank Corps on the western front, being decorated for bravery.
The volumes contain contemporary entries as well as reflections on what he had seen, along with drawings and paintings of battlefields and tanks.
Hansons Auctioneers, from Derbyshire, said they were special in giving "the spirit" of the war.
Mr Wootton, who died 35 years ago, wrote of both the horrors and the camaraderie of the trenches.
'Jovial' attitude
In one passage he records the ground "seemed to boil" under the weight of shelling but in another he lists a Christmas dinner of turkey, pudding and champagne leaving him feeling "very merry".
Auctioneer Charles Hanson said: "It is graphic, it is real and it is right here."
He added: "Yes the savagery, yes the ups and downs but also the spirit, the desire to survive.
"And the almost jovial way that Kenneth Edwin Wootton, of the Tank Corps, kept on going."