Couple photograph '70 car accidents' outside Derby home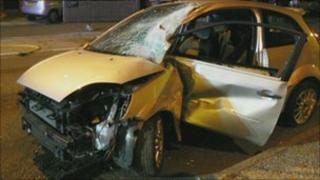 A Derby couple who have documented dozens of car crashes on the road outside their home have said they are afraid to sleep at night.
Jim and Susie Perry said they have taken photos of 70 road traffic accidents in Manor Road, Littleover.
The couple said they have also had seven of their own cars written off while parked on their driveway.
Derby City Council is hoping to reduce accidents by altering the layout of Manor Road, the city's outer ring road.
The council is planning to close various vehicle crossing points in the road's central reservation, but Mr and Mrs Perry said this could lead to cars travelling faster.
Mr Perry said: "In the past 13 years my wife has had seven cars written off just on the front drive.
"One car came down the hill, took out the front of my wife's car and a double brick wall that was four foot (1.2 metres) high."
Mrs Perry said: "There have been many nights, especially Friday and Saturday nights when we have actually been afraid to go to sleep."
Residents, businesses and road users are able to comment on the council's plans to alter the central reservation until 4 February.